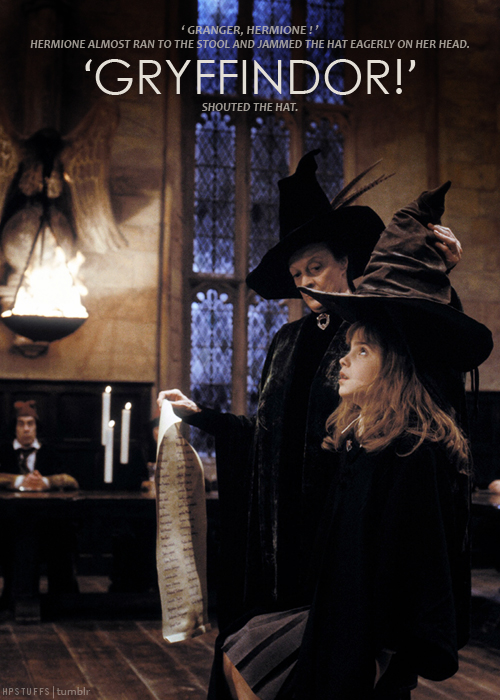 Harry Potter Psychotherapy: Categorization and Personality
*I do not own Harry Potter, therefore, mention of characters/concepts are solely intended for educational and therapeutic gain.*
---
Categorization
It is human nature to understand your world in terms of categories. In the NPR podcast, Invisibilia, they discuss Rize Coffee Shop in Midtown Manhattan. Rize Coffee Shop tapped into people's need to categorize objects for a sense of understanding and belonging. They set out two tip jars every day with different categories to compete. One day they would have kittens vs. puppies, Apple vs. Samsung, cassette tape vs. vinyl, etc. They quickly discovered that putting their tip jars into two categorizes increased the number of tips received. This ties into the human innate desire to differentiate themselves and declare a category. When customers were asked for explanations for their chosen category, they would make comments such as, "dog people are chatty" or "cat people like to stay home", etc. Those customer comments bring Henri Tajfel's Social Identity Theory to the forefront. Social Identity Theory suggests that a person's sense of identity is based on their group membership. People tend to increase their self-image through promoting the group they belong to and criticizing the groups they don't belong to, creating an "us versus them" mentality. Through this process, there is a tendency to exaggerate differences between groups and similarities within the same group. Categorization helps us to understand objects and identify them, thus helping us to understand ourselves through our group memberships. Perceived knowledge about certain categories often guide responses to that thing, serving as a mental shortcut to save time and brain power.
Categorization is a very important factor at Hogwarts School of Witchcraft and Wizardry. Students are sorted into one of four categories on their first day before they even get a chance to sit down and eat after a long journey on the Hogwarts Express. From the moment the Sorting Hat makes his decision, your fate is sealed in how you will understand your personal identity, behave toward others, make friends, and succeed in your 7 years as a student. The following are various characterizations associated with each Hogwarts House:
Gryffindor: Brave, daring, adventurous, determined and chivalrous. Often associated with heroism and "doing the right thing".
Hufflepuff: Hardworking, dedicated, patient, loyal and fair. Often associated with "doing what is nice". They are welcoming to anyone who feels they do not fit in the other three houses.
Ravenclaw: Intelligent, witty, creative, clever and quirky. Often associated with "doing what is wise".
Slytherin: Proud, ambitious, cunning, resourceful, intelligent and determined. They are often associated with evil due to the witches and wizards who choose a dark path, yet many Slytherins choose a light path. Their motto is to "do what is necessary", including selective loyalty and intelligence used with specific intent.
Each house develops a picture of personality traits and corresponding behavior for each member. For example, a student who might have been difficult to place (a hatstall) could have modified their actions based on placement. Hermione Granger was placed in Gryffindor even though she was the cleverest and most intelligent student in her year, thus qualifying her for Ravenclaw. Had she been in Ravenclaw, one could expect that she would not have turned into the rule-breaking, brave, and daring witch she turned out to be. Severus Snape could have done well in Gryffindor at a young age, yet he was sorted into Slytherin and utilized his traits to get ahead and fit in somewhere instead of "doing what was right".
The question to consider is this: Does personality exist?
This dilemma was discussed in yet another NPR Invisibilia podcast. According to scientific contributors in Invisibilia, many experts in the field reject the existence of personality. Research has shown that people are predictable only because we see them in situations where their behavior is guided by that situation and the roles or relationships they are occupying at the time.
For example, Peter Pettigrew was very close with James, Sirius, and Remus, when at Hogwarts. He was loyal to them at the time because their friendship provided a situation for him to feel protected, popular, and successful. Upon graduation, Voldemort gained more power and the situation seemed less hopeful for Voldemort's opposition. Although we do not know much about Peter's childhood, it is likely that he learned from family at a young age that he needed to look out for himself and adapt to situations to survive. Peter did not view this as being good or bad, it's just what he learned and valued. Therefore, when the time came, he betrayed his friends to survive and succeed in life. In his new situation as a death eater, Peter adapted to each change, such as nursing Voldemort back to health, cutting off his arm for Voldermort's resurrection, and even that split second of remorse at the Malfoy Manor dungeon with Harry, which ultimately cost him his life.
Another example is Severus Snape. As a Hogwarts student, he became friends with future death eaters within the Slytherin house, mostly due to being a victim of frequent bullying by others. He felt that he fit in with the would-be Voldemort supporters, therefore, he became a death eater after graduation. In hindsight, if the sorting hat had put him in Gryffindor, it is likely that James, Sirius, Remus, and Peter, would not have bullied him. There would have been no need to become friends with the pre-death eaters in Slytherin house. Therefore, Lily would never have been angry with Snape for his choices and they might have ended up together. With Lily's love and respect, Snape would have acted entirely different and would not have succumbed to his abusive nature learned by his own abusive childhood upbringing.
What does this mean for you?
People limit themselves based on their perceptions of their personalities or traits. I often hear people make self-deprecating comments such as: "I'm a lazy person", "I'm not smart", "I'm bad at math", "I'm a terrible person," "I'm unlovable", "I'm ugly", or "I'm a failure".
These are beliefs people have internalized over time due to various situations and circumstances. Some take cues from the media, society, negative comments from family or peers, etc. Those self-deprecating thoughts not only make people feel miserable, but they brain-wash individuals to believe they are stuck with those labels and will always be that way. If you believe that you're hopeless at math, how likely is it that you will challenge yourself to get better and prove yourself wrong? If you think you're lazy, how likely is it that you will choose to be productive instead of staying on the couch? If you believe you're a terrible person, wouldn't that then influence you to respond negatively to others?
Any of us can choose to make different decisions at any time. If we believe that our personalities are fixed, then we make excuses not to grow or change for the better. Take a good look at your negative thoughts and see if you can challenge them. Be willing to break your self-imposed glass ceiling to reach your goals and make choices you want to be proud of.
Seek out a mental health professional for cognitive behavioral therapy, because it's our thoughts that cause us to feel the way we do.
*Check out this Daily Thought Log from Therapistaid.com for monitoring your negative thoughts.*
---
Please note that these therapy exercises do not qualify as stand-alone treatments and it is recommended that you seek help from a licensed professional mental health provider.
Contact me with questions or to schedule an appointment:
E-Mail: jmorris@jmmhc.com
Voicemail: (248) 327-4643